Benchrest EC Tuner Brake 1 1/4″ diameter
$235.00 – $245.00
The BR EC Tuner Brake incorporates three elements that provide shooters easy installation, strong recoil reduction and optimal tuning.  This brake has STRAIGHT ports out the side which is legal to use on long range Benchrest competitions.
The rear self-timing nut provides correct timing on any barrel. The EC Tuner Brake incorporates an expansion chamber for maximum recoil reduction. The front end is a tool-less barrel tuner. Our easily adjusted tuner allows barrel harmonics manipulation, matching your load and ensuring best possible accuracy.
This easily installed system will transform your rifle, achieving new handling and accuracy levels.
Available in 6.5mm , caliber .30, caliber .338 and caliber .375 — Precision machined, highly corrosion resistant 303 stainless steel
Available thread sizes are:  5/8-24, 3/4-24, and 7/8-24
Finish: Uncoated Stainless steel
Diameter: 1.240″ (27.9 mm)
Length: 3.3″ (83.8 mm)
Description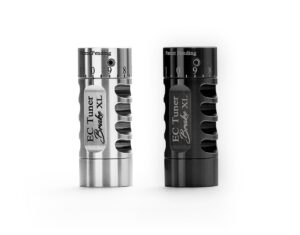 Additional information
| | |
| --- | --- |
| Thread size | 5/8-24, 3/4-24, 7/8-24 |
| Bore Diameter | 6.5mm and under, 30 caliber and under, 338 caliber and under, 375 caliber and under |
| Finish | Stainless, Black Nitride |